Bliss-Zimmerman Memorial Lecture: Gail Kern Paster, "'After his sour fashion': The Cognitive Ecology of Shakespeare's Julius Caesar."
May 19, 2016 @ 4:00 PM

-

7:00 PM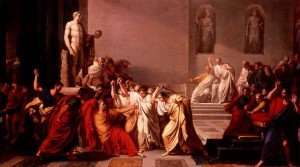 "Cognitive ecologies" is a term used to designate all the activities of deciding, contemplating, feeling and the environments in which they take place. In Shakespeare's Julius Caesar, centered upon a decision and its disastrous aftermath, the cognitive ecology is where the play in a real sense takes place. Paster will focus on two moments in the play – before and after the assassination – in order to argue that it is a key change in Brutus's thinking from keen social observation to metaphor and adage that allows him to want to kill his friend.
Gail Kern Paster is the editor of Shakespeare Quarterly and Director Emerita of the Folger Shakespeare Library. In addition to this work, she has edited numerous editions of early modern plays, co-edited a collection of essays with Katherine Rowe entitled Reading the Early Modern Passions: Essays in the Cultural History of Emotion (University of Pennsylvania Press, 2004), and has published several monographs, including The Body Embarrassed: Drama and the Disciplines of Shame in Early Modern England (Cornell University Press, 1993), Humoring the Body: Emotions and the Shakespearean Stage (University of Chicago Press, 2004), and The Idea of the City in the Age of Shakespeare (University of Georgia Press, 2012).
---
The Bliss-Zimmerman Memorial Lecture honors the memories and legacies of two eminent EMC faculty members, Lee Bliss (1943-2006) and Everett Zimmerman (1936-2003).