TALK: Johanne Kristiansen, "Intended for Insertion: Newspaper Editing and Public Debate in England, 1790-1795"
February 11, 2016 @ 2:00 PM

-

3:30 PM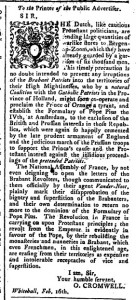 The outbreak of the French Revolution sparked a period of heated public debates in England known as the 'Revolution Controversy'. Inspired by the ideals of liberty, equality and fraternity, English liberals called for societal change, while conservatives sought to maintain the status quo. At the heart of debates were such key issues as parliamentary reform, religious toleration for nonconformists, and women's rights. When exploring these issues, scholars have focused almost exclusively on books and pamphlets, leaving out the important contributions of periodicals and newspapers. The obvious reason for this oversight is the difficulty of working with these sources, due both to the mass of surviving material and the challenge of accessing it. However, in the course of the last 10 years or so, the field has been revolutionized by developments in digital media, and we are now on the brink of a shift which will unquestionably alter the way we work with historical newspapers and periodicals.
Based on the new opportunities for content analysis enabled by digital access to newspapers in online newspaper archives, such as the Times Digital Archive and the 17th- and 18th-century Burney Collection, my thesis attempts to adjust the skewed image of the print culture surrounding the revolution controversy. Based on an analysis of important content areas – more specifically editorial notices and political essays from outside contributors – in some of the leading newspapers of the period, I argue that the editors' choices of what to include and exclude in their newspaper columns greatly affected the dynamics of public debate. Through a case study of a debate concerning religious dissent, I will argue that the editorial policies of newspaper editors played a crucial and formative role in the public exchange of opinions, by encouraging or discouraging certain topics and forcing political writers to seek alternative, and perhaps less suited, publication channels.
Johanne is a visiting Ph.D. student from the Norwegian University of Science and Technology (NTNU) in Trondheim, Norway, in the Department of Language and Literature. She is part of Enlightenment News, a research project launched in 2014 and currently funded until 2017, which springs from the mass digitization of newspapers and periodical publications from the eighteenth and early nineteenth centuries. The project explores how this archival development is changing our thinking about the history of news, and it interrogates how access to a huge archive of material – in a machine-readable format – is producing original knowledge and innovative practices within literary, cultural and media history.