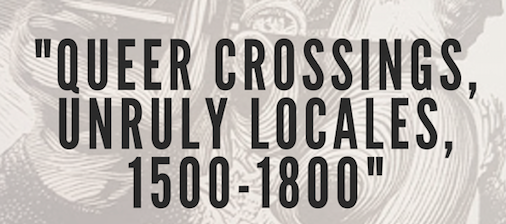 Please join the Early Modern Center at the University of California, Santa Barbara for our annual conference, "Queer Crossings, Unruly Locales, 1500-1800," to be held on Friday, February 28th and Saturday, February 29th, 2020. We are happy to announce our two keynote speakers: Melissa E. Sanchez (University of Pennsylvania) and Rajani Sudan  (Southern Methodist University). View the schedule and related information about the conference above. If you have any questions, please feel free to contact emcfellow@gmail.com.
---
---
Othello in the Seraglio: The Tragedy of Sümbül the Black Eunuch (Carsey-Wolf Center & Theatre and Dance)
Othello in the Seraglio: The Tragedy of Sümbül the Black Eunuch, a uniquely powerful "coffeehouse opera," retells the age-old story of passionate love and murderous jealousy, of a black slave in the seventeenth-century Ottoman court who rises to power and riches, only to come to a tragic end. The multi-layered script was adapted from Shakespeare's Othello and its source texts, and written by music historian Robert Labaree. The score, by Grammy-nominated composer Mehmet Ali Sanlıkol, is a stunning tapestry woven of Italian Baroque and Turkish sections alongside Sanlıkol's own newly-composed music. Othello is performed on traditional European and Turkish instruments by an ensemble of twelve musicians, singers, and a dramatic storyteller.
This event will feature a high-definition cinematic restaging of the opera. Composer Mehmet Ali Sanlıkol will join moderator Abdulhamit Arvas (Theater and Dance, UCSB) for a post-screening discussion. This event is presented in conjunction with the Early Modern Center conference "Queer Crossings, Unruly Locales 1500-1800." Reserve free tickets here through the Carsey-Wolf Center (event is free but reservation is recommended in order to guarantee a seat).
Iqbal Khan Week-Long Residency Events (Theatre and Dance)
See website and flyer for event times and more info on Iqbal Khan week-long residency events.